A
life settlemen
t is the sale of a life insurance policy.
A life settlement is the selling of an existing life insurance policy to a third party for more than its cash surrender valuation but less than its net death benefit. In a life settlement deal, the policy's owner transfers ownership of the policy to the buyer in exchange for an immediate cash payment and, in some instances, a curtailed interest in the survivor benefit for the policy's beneficiaries.
The purchaser of the policy pays all future premium payments and is given the survivor benefit upon the death of the insured (as soon as the policy matures).
What is a Viatical Settlement
A life settlement is dissimilar from a viatical settlement in that the individual insured on the policy has a longer life expectancy. In a viatical settlement, the life expectancy of the insured is 24 months or less.

Many American senior citizens-- generally those 70 years of age or older-- are finding that life insurance policies that once seemed necessary, have become unaffordable or no longer satisfy their needs.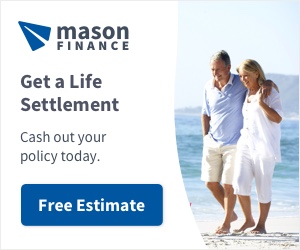 Because of this, most seniors lapse or surrender their policy back to the insurance provider. Policies with more than $100 billion of face value are lapsed by seniors over age 65 each year, mostly because they are unaware an alternative might be offered-- including the sale of the policy.
It's usually best to consult with members of the Life Insurance Settlement Association (LISA). Member companies are certified in all areas of the life settlement market; however, to initiate the sales process of your policy you need to work with a licensed life settlement broker or specialist like Mason Finance.

Life settlement brokers provide an essential function of guiding a policy owner through the sales process, including assembling the required information to finish the sale. Additionally, they look for competitive offers for a policy and provide guidance concerning the deal that best meets the needs of the client.
Life settlement companies purchase policies either through a life settlement broker or straight from consumer individuals for either their own account or on behalf of an investment firm. State regulations require that all policies are offered through a licensed life settlement provider.