If you ever applied for a new mortgage or refinance, one of the questions in the application is if the mortgage is for your primary residence, a vacation home or an investment. Why do they ask this question? It's because the way you use your property determines what your mortgage rate will be.
Homeowners will be happy to learn that primary residences are given the lowest mortgage rates. It has to be the home you live in or plan to live in. If you're buying a second home or a vacation property you're going to be paying a higher rate. On vacation property there are also stricter underwriting guidelines. So be ready for that.
If you're applying for a mortgage for an investment property you will be paying an even higher mortgage rate. An investment property is defined as a property you intend to rent or one you intend to resell at a profit. Mortgages on investment property are considered risky, as result you will paying higher fees and making a much larger down payment.


A Mortgage on an Investment Property is more Expensive

It does cost you more to finance a rental property, but how much more? If you're a borrower with a FICO score of 680 you will paying an extra 3 points in fees for the mortgage in closing costs or have a higher rate that's between .375% - .5% higher. The reason rates are higher is the lender is taking on more risk and the buyer has to pay the lender for that extra risk. Extra Risk? Investment property with a mortgage is riskier for the lender because if loss of rental income or home values drop the rental property owner has no reason financially to continue paying the note.

Remember over the last few years the home default problems we have been experiencing has come from people buying second homes or investment property. People will stop paying their investment property note before the note on their primary residence.

What are the rules to Qualify for a Second Home Mortgage?

Lenders have to follow a set of rules for you to qualify for a Second Home mortgage. Also don't try to qualify your investment property as a second home, lenders have a set of rules that you must follow so that doesn't happen.

Rules to Finance Property as a Second Home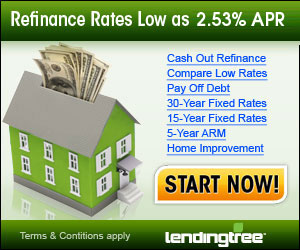 The residence has to be far away enough from your primary residence. If it's in the same town it doesn't qualify.

You must reside in the property at least some part of the year.
It can't be a multi-unit bldg. It must be single-family residence.
It has to be a property that can be resided in year round.
It can't be a timeshare or have a management company have control over it.
If you are buying or refinancing a mortgage for your second home there are no additional fees. But there are limits set by Fannie Mae and Freddie Mac for the amount of the mortgage.

No matter what type of property you need to finance, today is the best time to lock in your rates. It's not going to get any lower than it is now.

Home Prices Hit 8 yr Lows! Rates at 2.75% (2.87% APR). Save at LendingTree.com! Click Here!